RNG Games VS Live Dealer Games
25/10/2018
|
Categories:
General
|
Published by: Casino Viking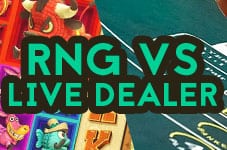 There are basically two different kinds of games in online casinos. They are RNG games and live dealer games. There is, of course, a major difference between them. You might be wondering which games are better to play. What are the strong suits and the weak points of each of the individual categories? Read this article and find out.
RNG Games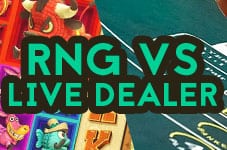 The Random Number Generator (RNG) games are using RNGs in order to work. These random number generators are posed in order to keep the games' results entirely random. The good thing about RNG games is that they are frequently tested. And they are tested by some of the leading independent testing agencies. The results ought to show that the games are fair. An example of such games are the classic slots, the most popular casino game as of today.
That being said, we must mention the fact that there are certain "rogue" casinos. They are called this way because they are proven to have tampered with the RNGs. And if the RNG has been tampered with – then the game is no longer fair. The player is slated to lose more money on average. It's your job as a player to do some research beforehand. Rogue casinos are found out sooner or later and they are cast on the wall of shame.
Live dealer games
Live dealer games are exactly what their name says. They are games that can be played with the help of a real, live dealer. If you want to feel like you're in a real casino – then these are the best online games to play. This is as close as you can get to playing in a real casino – if you do it from home.
This is not to say that live dealer games can't go "rogue". However, once again, you will need to do some research on the legit casinos. This is in your best interest.

In conclusion
We hope that you're aware now of the differences between the RNG and the Live Dealer games. Pick the ones that you like best. Read more news and blog post at the Viking Blog. Thanks for reading.
Last Updated on August 26, 2021