Some Gambler Essentials
14/03/2019
|
Categories:
General
|
Published by: Casino Viking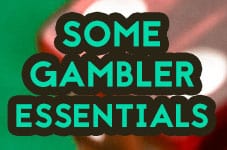 Gambling is a very fun and exciting hobby that many people have. If you're a gambler then you will want to improve upon your gambling longevity. And in order to do this, you will need to work on your gambling habits. By developing certain gambling habits, you will be able to persist gambling for longer periods of time. Here's what you will need to do.
Know when to stop
The first most important thing that every gambler needs to do is know when to stop. And we get it. Gambling can be addictive. Sometimes you will believe that Lady Luck is right behind the corner. You will believe that you're one spin away from the jackpot. But the successful gamblers know when to call it a night. They have their gambling budget and they don't allow themselves to pass it. Develop the habit of knowing when to stop. Always gamble responsibly, read more on responsible gambling here.
Develop an analytical mind
Sure, gambling is about having fun. But it's also fun to win some money if you are lucky. Or, it's about having fun while not losing money. In the end, in this way, you will at least be able to break even. What you need to do is think of what's the best course of action for you. Different games have different returns on your bet, or Return to Player (RTP) – read more on RTP here. There are slot games with less than 90% RTP rates. You will do a bad thing if you play these games. Then there are slots with more than 98% RTP rates. If you develop your analytical skills, you will know which games to play.
Write things down
If there's one advice that we'd give you it's to write things down when it comes to gambling. If you're in the habit of writing things down, then you will be able to clear your mind. You will formulate your thoughts into coherent sentences. And you will be able to understand your gambling passion on a much deeper level. And this will only improve your gambling experience. With time, you will get to learn a lot about yourself. It's a powerful introspective tool that successful gamblers use. It will also help you achieve control over your urges and drives. And this is what every successful gambler needs.
In conclusion
If you adopt these habits yourself, then you might be able to become a successful gambler. You will enjoy gambling more than ever before. Always gamble responsibly and remember that the main reason to gamble is to have fun!
Last Updated on August 26, 2021