Tut's Twister
Tut's Twister is one of the newest games of 2018, made by the game studio Yggdrasil. This is a legendary company in the field of iGaming. It has dished out several of the best internet slot games to date. So, in this review, you will get to learn more about Tut's Twister. You'll learn information about the game's core features, special features, and theme. Without further ado – let's get to it.
Theme of the Tut's Twister slot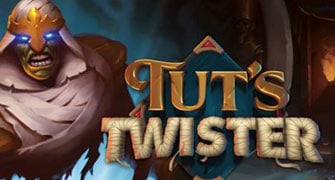 As is usually the case with Yggdrasil games – here too you will see an introductory video. It will show an ancient Egyptian tomb. A mummy-like creature (King Tut) will come on the screen the form of a tornado. He will then look towards the player and scream. And the game starts.
If you're a fan of Egyptian mythology, you will like the theme of this game. However, we really think that Yggdrasil could have done something more with the concept. The music adds to the feeling of mysteriousness while you play. In the background, you will hear the wind howling.
The core of the game
You will first have to select your bet size before playing the game. The lowest bet you can make is 0.10. The biggest bet is 125. This game has 25 fixed pay lines with 5 reels and 3 rows. What really stands out in this game is the incredibly high RTP rate. It's set at 97.1% which gives the casino an edge of only 2.9%. You should use this setup in order to win some money. That being said, this game also features cross-platform support. You can play it on your mobile device.
Special features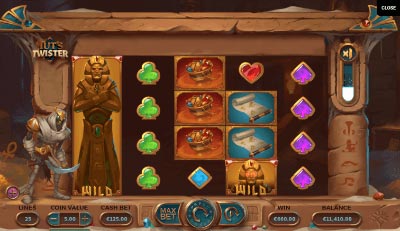 This game too has some special features. You can get to activate the main feature of the game by getting 2 wild symbols at any point. If you do this, then the leftmost symbol will turn into an expanded wild and cover an entire row. The other wild symbols will start moving towards the expanded wild tornado. The tornado will continue to suck up the wilds during the free spins. If there are no additional wilds on the screen – then you will get the last chance. If you don't get an additional spin now, then the free spins end. And for every three wilds that come up during this feature, you will get an increase of 1x multiplier.
In conclusion
Tut's Twister comes just short of some of the best games in the field. Sure, it has a good atmosphere and appropriate music. It even has a unique special feature. But we still feel that there is something missing – that X-factor that would make this game truly great. Read more slot reviews from casinoviking.com to find your favourite. Have fun and play safe!
Last Updated on November 25, 2021