Tiger's Claw by Betsoft – Slot Review
Online slots games are very popular. There are many players that enjoy playing them. To that end, most online casinos feature a big selection of slots. At the base, they are all pretty much the same games. However, there are distinctions in the theme and other elements of the game. One of the newest slot games made by Betsoft is Tiger's Claw. Below you will get to learn what this game is all about. Other slots from Betsoft Gaming include Stampede and Blood Eternal.
Theme of the game Tigers Claw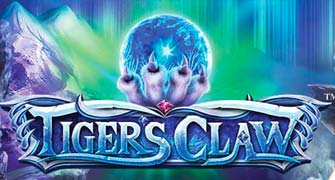 There really isn't a storyline in this game. The theme is of a place somewhere in the cold mountains. The main "character" of the game, if you can call it that, is a glorious, white tiger. There is some humming and buzzing in the background that we guess you could call music. But aside from the beautiful visuals and the proficient animations – Tiger's Claw hasn't really anything new to offer in term of the theme.
Gameplay and main features
Tiger's Claw is a simple slot game. The distinction about its gameplay can be found in its unusual reels. There are 5 reels – but they have different numbers of rows. The first reel has 3 rows, the second has 4, the third has 5, the fourth has 4, and the fifth has 3. The way to make winning combinations is by placing the same symbols next to each other. To that end, there are no conventional pay lines in this game. There are multiple symbols that you can use for winning. You can use the white tiger, the eagle, the shaman, the diamonds, and others.
Special features
There are a few special symbols in Tiger's Claw. The first one of them is the wild symbol. Chances are that you already know what this symbol is all about. It will replace all the symbols of the game – except for the other two special symbols. And the other two special symbols are the free spins symbol and the scatter symbol.
Various combinations of the free spins symbol will give you various levels of free spins. At most, you can get 96 free spins in a single spin. Also, the free spins feature can be retriggered and you may get up to 240 free spins. This is where the game's strongest feature is at.
In conclusion
The Tiger's Claw is a great slot game if you want to play slots. Betsoft once again confirms that it's one of the biggest iGaming studios. We think you will love Tiger's Claw.
Last Updated on November 25, 2021