Respin Rhino Slot by Lightning Box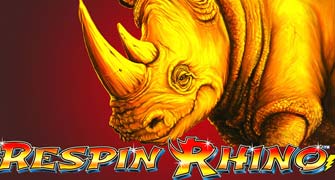 Lightning Box is a relatively new online slot developer. But it's definitely out to make a name for itself as quickly as possible. This is to be seen from some of the games that it has put out. One of these games is called Respin Rhino. It has grown quite popular with time and more and more people play it. To that end, you can read our review of said game below.
Join the Rhino in its natural habitat
The theme of the game is about the wilderness of the savanna. Of course, there will be the other animals of the savanna. There are elephants, monkeys, and exotic birds as symbols in the game. But what we're surprised to see here is the fact there is a white tiger. It certainly adds to the atmosphere of the slot.
And the music is also to the tune of the savanna. It's a simple loop and it can grow old quickly. But if you lower the volume, then you won't really notice it. But it will still serve to put that additional spark in the game.
Playing Respin Rhino
Now, what about the gameplay of Respin Rhino? What can you come to expect from this game? It's simple really. As far as slots go – Respin Rhino is a pretty standard, run of the mill slot. You won't see many exciting and novel features here. But still, it isn't one of the old school simple slots either. There are definitely some things that you can look forward to. For starters, the theoretical return to player rate is pretty high. It's set at 95.62%. There are 40 pay lines, in total.
The first exotic option comes in the form of the golden rhinos. If you trigger the respins, then you will get two sets of golden rhinos. They will cover the entire first and fifth reels of the game. It will make the odds of winning something skyrocket. And if the symbols match on the first and fifth reel, then you get respins. This pretty much sums up the special and unique features of Respin Rhino.
In conclusion
So, that's all there is to the game Respin Rhino. It packs some nice features that can get you some money. But overall, there are other games that are simply a lot more fun to play. So, we suggest that you find some of them and play them instead.
Last Updated on November 25, 2021