Narcos Slot – Try this popular casino game from NetEnt
Narcos is a critically acclaimed Netflix series that has gotten tons of recognition, worldwide. Many people have seen the show and most of them are impressed at how good it is. Well, NetEnt have now created a game with the same theme and title. You can learn more about it in this article.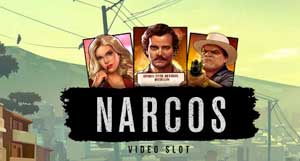 The theme of the Narcos slot machine
It goes very simple when it comes to the theme of Narcos. This is a game based on the show. And this means that you will get to see all your favourite characters of the show, in the game. There are the icons of drug kingpin Pablo Escobar, detectives Murphy and Pena, and many other characters. And the other symbols also correlate to the theme of the show.
The music fortifies the ambient and it will improve the general impression that you are in Columbia. But the fact is that the music can't really hold its own with the music from the show. The music from the show is actually available in the introduction to this game. Overall, the game does manage to make a quality impression when it comes to the theme. Most of you will recognize the characters from the show and will enjoy the atmosphere that the game sets.
The gameplay of Narcos Video Slot
But does this slot bring anything new to the table? Well… we don't think so. It's not a game-changer in the field of slots. It doesn't introduce any new inventions or features. But it does incorporate a handful of older, used features in an interesting way.
For example, there's the walking wild feature in the form of a police badge – on fire. If you get a police badge on fire, then it's a wild symbol that will shift to the left with every spin. It does this until it leaves the screen altogether. And there's a regular wild with a regular police badge (not on fire).
Also, there are drive-bys that will come up from time to time. The activation of this feature is purely random and you do not have to overthink it. Every time there's a drive-by, you will get higher value symbols and make big wins. There are also free spins and "Catch me" features that will bring you bigger sums of money.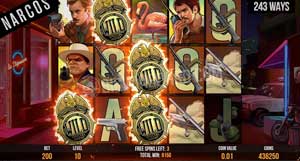 In conclusion
Narcos is not a revolutionary slot game. However, it has a nice implementation of the theme of a popular Netflix show. Also, it has many interesting features – despite the fact that they aren't new or unique. So, we definitely recommend that you try this game – but don't expect to be blown off by what you will see.
Last Updated on November 25, 2021