Mythic Maiden – A Slot Review
NetEnt has created a plethora of different slot games. And the thing that sets this company apart from the rest can be summed up in one word – quality. The quality of the products that NetEnt puts out is simply unparalleled in the world of iGaming. One of their games that follows the Halloween formula is called Mythic Maiden. You'll get to read more about it in our review below. Other popular NetEnt games you might want to check out include Jumanji and Hotline.
Theme of Mythic Maiden slot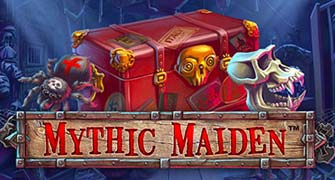 As we've mentioned in the previous paragraph – the theme of the game is to the tune of horror. If you want to get spooked then look no further than Mythic Maiden. This slot definitely has what it takes to make you creeped out – as far as slots go. But you can't really expect to get jump scare all over the place and be frightened for your life. This is not in the spirit of the slot games.
The background of the reels is set in some creepy, old room. There are spider webs all over the place. There are some weird faces set in stone. Mysterious winds and howlings come up from time to time. It's the perfect setting for keeping you spooked. There are weird animal sculls, mysterious chests, tomes held by skeleton hands – and other scary symbols. We also love the design of the classic A-10 symbols. They have the form of old candles and they add to the atmosphere.
So, what about the gameplay?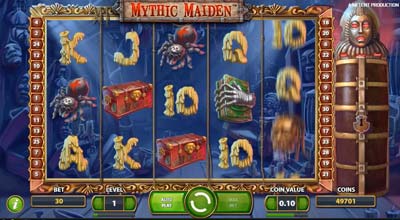 But where does the gameplay stand? Is Mythic Maiden fun to play? There are 30 pay lines in Mythic Maiden. The core gameplay is similar to that of most other slots. You get to select the size of your bet and you start playing. But then come in the special features.
First, you can use the wilds. They take the form of all the other symbols but the scatter. And moreover, they give you a 3x multiplier of the wins you'll make by combining a wild. Then there are the scatter symbols. If you get three or more of them, you will get a number of free spins. For 3, you'll get 10 free spins. For 5, you'll get 30 free spins. You can win additional free spins during this section, too.
Also, the mythic maiden gets unlocked during the free spins. This means that you will be able to get a multiplier bonus on top of your wins. The multiplier is 2x-10x. You can get free spins in addition to this – up to 2 free spins for every turn.
Some final words on this NetEnt slot
If it's Halloween season – then be sure to play Mythic Maiden. In fact, be sure to play it no matter what time of the year it is. We know that this will be a very fun game for you to play.
Last Updated on December 14, 2021