Mystic Mirror Slot Review
Mystic Mirror is one of the newest games created by Red Rake Gaming. The fact is that this company has indeed invested a lot in creating top-level games. And Mystic Mirror has proven to be one of their best games to date. If you're interested in learning more about Mystic Mirror, then you've come to the right place. You will get to learn more about this slot game by reading our review below.
How to play Mystic Mirror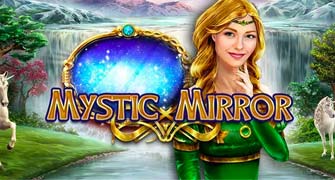 If you have played one slot – then, to a degree, you have played them all. This means that you will easily get to learn the rules of Mystic Mirror. There aren't any complexities that you can expect to find. You just select the bet size and you're good to go. Spin the reels and hope that you will win.
But there are indeed some special, unique features to this game. For an example, you can choose whether to activate the sixth reel. There are normally five. The activation of the sixth reel will give you the opportunity to make additional wins. But it comes at a price. You will need to increase the size of your bet in order to utilize this additional reel.
If you get mirror symbols (at least 6) then you activate free spins. And you will get 10 free spins at this. One of the symbols of the game will turn into a special symbol. And this means that it will begin covering the entire reels wherever it comes up. This will increase the odds of winning something. And these are the main features of the game.
The beauty of Mystic Mirror
The theme of the game looks like that of a fable. There are unicorns and beautiful princesses. We don't need to mention that there are also mystic mirrors. The background is pretty beautiful. There are two unicorns doing their thing in the meadows. The game's theme is truly beautiful. So, if you enjoy fables and mythical stories, then chances are that you will like the theme of Mystic Mirror.
There is no music running in the background. And this is somewhat of a flaw. There are only some birds chirping in the background. Red Rake Gaming could have really improved the Mystic Mirror theme by introducing some music.
In conclusion
And that's all there is about the Mystic Mirror game by Red Rake Gaming. We hope that you will try this game out and end up liking it. Other interesting articles about slots can be found in our VikingBlog. Check out our article about slots multipliers here. Thanks for reading.
Last Updated on November 25, 2021