Lost Vegas Slot (Microgaming) – Review
There are many slot games made by top developers. And one of the biggest and oldest developers goes by the name Microgaming. If you've played online slots, chances are that you've played some of their games. Today, you will get to read more about Lost Vegas. It's a fun slot that you can read about below. Another fun slot from Microgaming is Rainbrew slot, so check out that one as well if you like these slots.
Theme and style of the game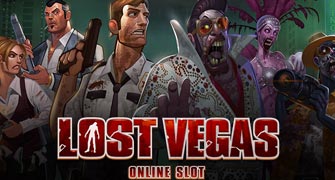 Lost Vegas is a horror slot. As the name suggests, its place in the city of Las Vegas. Except now the city is overrun by zombies. We're really fascinated by the horror themes of the slot games. It's not a coincidence that these kinds of slots are so popular among the players that play them. The music in the background is mysterious and spooky. And some of the drawings are genuinely disturbing. There's one zombie symbol of an infected nurse with a syringe in the hand. The syringe oozes green liquid. And such is the overall artistic style of the game. The horror fans will definitely love it and they will get spooked out. Also, the human characters are all well-drawn. They all have personalities that you can speculate about just by seeing them.
How to play Lost Vegas
If you want to play this game, then the process is very simple. You will need to find an online casino that features it, first. After you have made a deposit, you will be able to begin playing. You just select the bet size and you hit the spin button. The reels will start spinning and you will get a new combination of symbols. It can be a winning one or not.
There are 243 ways to win – Lost Vegas is a more modern slot game. And the most unique thing about this game is that you can select the team you're playing with. You can either play with the survivors or with the zombies. This doesn't have many implications for the game, except for the bonus round. If you play with the survivors, then the A-10 symbols that will fall on the reels during free spins will turn into cash prizes. If you play with the zombies, then the wild symbols that fall on the reels will get stacked. This means the reels are infected and the free spins last until they are all infected. You can get a maximum of 50 free spins in this way.
In conclusion
Lost Vegas is a fun horror slot game that we believe many players will like. Be sure to try it out for yourself.
Last Updated on November 25, 2021