Gunslinger Reloaded by Play 'N Go – Review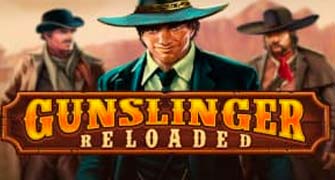 Play 'N Go has made a plethora of great gambling games such as video slots. They are specialists in the field of slots. And this means that some of the best slots on the internet are made by this company. To that end, we're here to review some of the best games made by Play 'N Go. And one of the finest games made by this company goes by the name of Gunslinger: Reloaded. Read all about it in our review of this game below.
Entering the Wild Wild West
The Wild West theme was popular a long time ago now. But truth be told, there are many people that still cherish the memories of this notorious part of American history. To that end, Gunslinger: Reloaded will transport you back to the time of gunslingers and bank robbers. Everything about the thematic design feels like it. At the base of it, there are the symbols. There are guns, whisky, wanted posters, gold piles, and everything that reminds one of the Wild West. The music is also decidedly so to the theme. There are Wild West buildings that rise in the background. We really like how the Wild West theme is executed in this game. We hope that you will do so too. And we know that this will be the case especially if you're a fan of the Wild West.
Duelling with rival gunslingers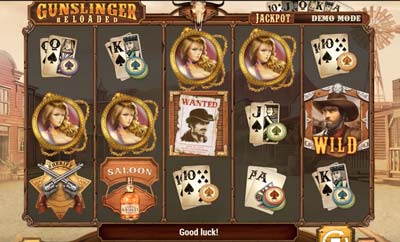 Then there's the fact that you will need to play this game, too. So, what can you do about it? You can select the size of your bet and then roll the dice. So to speak. But there are nice features along the way. If you make wins with the various cards, then you will go towards the jackpot. If you collect all the cards, then the jackpot will get very near. The wanted posters will have you chase down a criminal. Collect three of them and you will get a bonus. The higher the multiplier that you will select – the higher the risk. If you get three whisky bottles, then you will be rewarded with free spins. Finally, there's the wild symbol in the form of a cowboy. It replaces all the other symbols except for the specials.
In conclusion
You now know what it takes to be a gunslinger in the Wild West. Be sure to try this game out. We're confident that you will like it.
Last Updated on November 25, 2021