Funny Casino Names
17/02/2019
|
Categories:
General
|
Published by: Casino Viking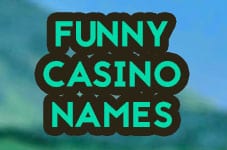 There are classic online casinos where you can play your favorite games. They are all classy and they stick to the tried and tested formula. But then there are some online casinos that wish to try out new things. One of the ways in which these casinos differ from the competition is in their names. Frequently, the casinos that want to stand out use funny and original names. Below you can read more about the most original online casino names on the internet.
EatSleepBet Casino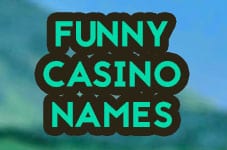 Here's the online casino that purports to have the complete formula for a happy life. Eat, sleep and bet are the three things you need to do to be happy – according to this. Not, this may not necessarily be the case – but we still have to agree that it's a funny name. And it's pretty inventive, at that. It's a casino that features games by some of the best developers – including NetEnt and Microgaming. It also has a largely retro atmosphere that many people tend to enjoy.
Lucky Pants Bingo
This casino takes the whole "lucky charm" game to the next level. This time, it's the pants that are lucky. Now, this casino may initially give the impression that it's geared towards the ladies. You will see that the pink and the purple colors are predominant on the website. Also, the main logo of the casino is a bingo ball with panties on it. Even though this is a bingo website, there are still some casino games. You can play games by NetEnt and IGT, among others.
Yeti Casino
We really can't tell what made the godfathers of this casino pick the name Yeti. What does a Yeti have in common with an online casino? Anything? We don't think so. But still, the owners of Yeti Casino have decided to take this as their name. It's also a part of their brand with the cool-looking symbol of the Yeti on the website. You can play many different games here. There are slots and other classic gambling games. Best of all, you could also use your mobile device to play here. Yeti Casino features extensive support for all different devices.
In conclusion
These were some of the funniest and weirdest names of online casinos. You will likely find many more online casinos with similarly original names. Let the quest begin.
Last Updated on August 26, 2021